As most of you are aware, there have been a large number of thunderstorms that have hit Calgary, Airdrie, and surrounding areas over the last couple of weeks. Some of these storms have resulted in loonie or golf ball size hail, causing a significant amount of damage to vehicles and homes. The majority of claims thus far are coming out of Airdrie, with an extensive amount of vehicle hail damage.

We have been busy the last couple of days taking information from clients reporting hail damage to their property, including dented siding, shingles, broken windows, dented vehicles, broken windshields, and damaged motorhomes and trailers. All of our Insurers are responding to these claims as quickly as possible, with any emergency claims taking priority.

If your vehicle or home has suffered wind or hail damage from one of these storms, please contact our Office at 403-245-2424 and one of our Brokers would be more than happy to assist you. For any after hours claims, you may contact your Insurer directly by clicking here.

Yours truly had the pleasure of experiencing one of these storms first hand on Monday, August 4th… when our home was struck by lightening! After feeling the lightening hit and smelling what resembled burnt plastic, we contacted the fire department who sent out three trucks. They were in the area responding to several other calls where homes were struck by lightening. We were lucky and the only resulting damage was to our upstairs bathroom fan (as the lightening hit the metal vent on the roof). Our digital box and internet are no longer working as well, but those things are incredibly minor when you think about how serious it could have been… especially with five people inside the home at the time. I've included a couple of pictures from our experience, including one of our boys with their fireman gear!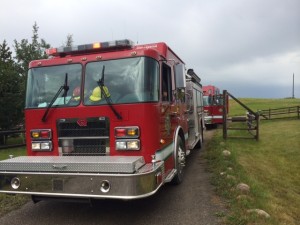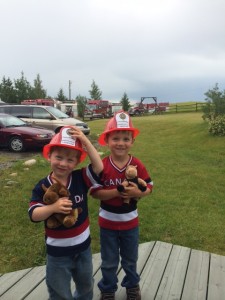 Here are a few storm-related links that we thought you may find useful:

– Bracing yourself for wind or hail
– Here comes the hail – OK, now what?
– Supressing Hailstorm Damage

As always, if we can be of any assistance please do not hesitate to contact our Office!

Thank you,

The Costen & Associates Team