As we head into a new year, we thought it may be helpful to highlight some of the benefits (The Costen Advantage!) of having Costen Insurance as your Broker of choice…
30 Years in Business
We are excited to be celebrating our 30th year in business.  Our experienced Team of Brokers has an in depth understanding of the insurance industry and the products that are available to you, our valued clients.
Family-Run
Costen Insurance was established in 1987 by Founder, Larry Costen.  His daughter and the current President, Crista Costen, joined the company in 1998.  Although the business has grown over the years, it is important to us that we maintain the close-knit and family feel.  The Team is a second family to us and we are excited for the business to succeed and continue for the next generation.
Personalized Service
We have a Team of friendly and knowledgeable Brokers who can assist you with finding the right coverage and premium to suit your individual needs.  We understand that everyone's needs and situations are different and we pride ourselves in always providing excellent service.
Full Service
We are a full service Brokerage, meaning we can offer insurance for all types of risks. As well, as an independent Insurance Broker, we represent many different insurance markets.
Claim Support
We provide our clients with assistance during the claims process.  Whether it be booking a rental car or making an appointment with an autobody shop or home contractor, we can help.  We can also correspond with your adjuster to assist in moving the claims process along.
Premium Financing
Our insurance markets offer a range of premium financing options to suit your needs, whether you want to make a payment in full, semi-annually, or monthly.  In addition, we can offer premium financing in the event an insurer is unable to do so.
Making a Payment
We offer many different options for making premium payments, including cash, cheque, debit and credit card. We also recently introduced INTERAC e-transfers.
How to Reach Us
We are accessible in almost every way!  You can reach us by phone, text message, fax, email, through our website (including live chat), via social media (Facebook, Twitter, and Linked In) or in person!  We are also open six days a week, Monday to Friday from 8:30AM – 5:00PM and Saturdays from 10:00AM – 4:00PM.
Online Portal and Mobile App
We offer you, our valued clients, access to myCosten, our online portal and mobile app.  myCosten gives you the ability to view and print your policy documents and pink cards, view your payment schedule, make policy change requests, submit claims, and more.
Supporting Local Charities
Since January 2003, Costen Insurance has been supporting local charities through our Customer Referral Program.  Each year we designate a Charity of the Year and for every referral that results in new business, we will donate $5.00 at the end of the calendar year.
Customer Appreciation
Since January 2004, we have been doing our Customer Appreciation Draw.  At the beginning of each month, we draw one name from our customer database (new and existing clients are automatically entered).  This year, the winners will each receive a $50.00 Shell Gas Card.
Serving Alberta
Costen Insurance is licenced to write insurance for all of Alberta, so no matter where in the province you are located, we can assist you with your insurance needs!
Member Associations
Costen Insurance is a proud member of the following associations:
The LarryHead
Last but not least, we have an AWESOME logo!  Our hope is to make the "larryhead" more visible and well-known in 2017.  Watch for him!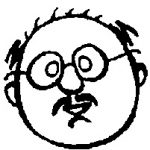 If you have any questions regarding The Costen Advantage, or if we can be of any assistance to you, please do not hesitate to contact us.  Thank you!
The Costen Insurance Team