We would like to introduce one of our valued clients, Men in Kilts Window Cleaning. If you live in Calgary, Edmonton, or surrounding areas, you have probably seen one of their green-plaid Men In Kilts vehicles driving around town! They are a great company with a fantastic brand and excellent services, and we highly recommend that you check them out. Here is their story:

***

It all started with a bucket, a ladder and a dream. The entrepreneurial team of Chris and Robyn Carrier started Window Works in 1992 and quickly grew the company to become a window cleaning company of distinction. Shortly after, to meet the needs of our customers, we developed our blind and carpet cleaning services. Over the following 20 years in business, even though we had gained recognitions (A+ rating with BBB, Consumer's Choice Award, COR Certification), we felt that we were missing something. We had been working with a business coach, trying to take our business to the next level. We heard about a "purple cow" regarding the branding of a business (think Starbucks). A purple cow is a business name or concept that is memorable and stands out from the rest (if you were driving down the street and saw a purple cow, you'd probably take a picture, tell people about it and never forget it!).


Along came Men In Kilts. While on a trip to Vancouver, we saw an eye catching brand called Men In Kilts. We just had to be part of this unique, distinctive, fun, attention-grabbing brand! Positioned to grow our local window cleaning company into the largest across Canada, Window Works Inc. joined forces with Men In Kilts in April of 2012. Window Works Inc. is a majority partner in Men In Kilts Franchise Services, we have over 50 staff in our Calgary office and opened an Edmonton branch in March of last year. There are a total of 11 Men In Kilts locations across North America and we feel that our mission, to bring smiles to the world … one kilt at a time, is contagious.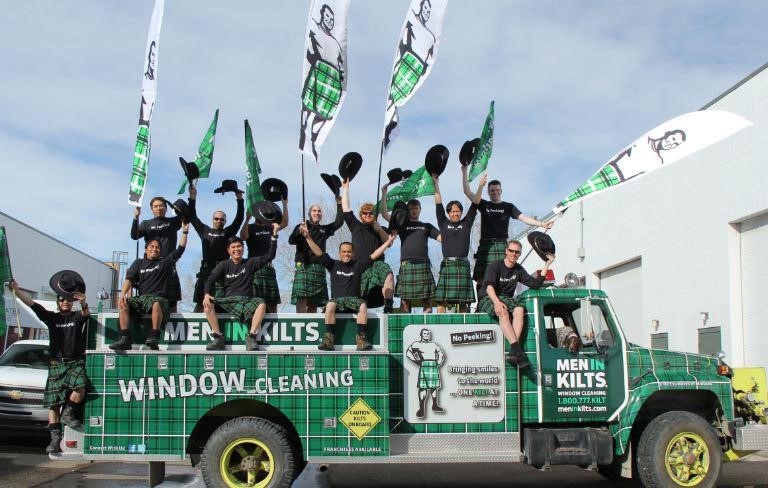 We've never questioned the power of the kilt, but what we didn't anticipate was the level of involvement we would have in community and charitable events. It seems that everyone seeks us out and we just have to say "yes" every time. If you'd like to find out more about Men In Kilts Calgary, we invite you to check out our
Facebook page
("Like" us or love us, it's up to you!). We're determined and committed to delivering a fantastic cleaning experience, one kilt at a time, just remember… No Peeking!
***
For more information on Men In Kilts or the services that they offer, please visit them at
www.meninkilts.com
!
Thank you,
The Costen & Associates Team