The call of the wild, getting out of town on a camping trip, and enjoying nature is such a great way to enjoy the weekend.  If you can bring that new camper trailer or boat with you, it will be just that more enjoyable!
Here are some tips to help ensure a great time:
Loading and Connecting your Trailer
Whether it is a personal watercraft on a small trailer or a large double axle camper trailer, loading the trailer is one of the most important aspects. Where you place your load affects how the trailer will handle. If it is tail-heavy, the trailer will tend to sway unpredictably. When you put your cargo onto the trailer, try placing about 60% of the load in front of the axle and aim for a 10 – 12% tongue weight. You can use a bathroom scale to determine this.
Try and keep your trailer load even from side to side and with a low centre of gravity. This will also improve the handling of your trailer. Once you have your cargo distributed properly, secure it all. There is no guarantee that things will stay where they are once you start moving. After 10-15 km of towing, it's a good idea to go back and check it all again, as things are probably going to shift.
Perform Your Checks
Check your connections including the lighting cable, tongue, equalizer bars, chains and breakaway cable. The chains should be attached in an "x" pattern to catch the tongue of the trailer should it disconnect somehow. The breakaway cable triggers the trailer's brakes to hopefully slow it to a stop if it becomes disconnected.
Check the trailer lights by flipping on the hazard and headlights on the tow vehicle. This runs all lighting circuits on the trailer and you can check them all at once.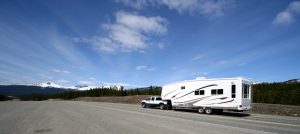 Driving The Rig
This new package of vehicle and trailer are now much longer and heavier than a regular car.  Stopping distances are also going to be larger now that you have a trailer. Look further down the road and try and predict what is going to happen. Put more distance between you and the next vehicle in front of you, turn wider to accommodate the length of your trailer, and take things slower. Be extra careful when changing lanes and plan your route ahead of time.
Trailer sway can occur when towing a trailer, and it can be a little scary when it does. Try using your trailer brake controller to apply some braking power. Otherwise use your vehicle brakes to slow things down to a more manageable speed. This should almost always correct the sway even if the sway was started with a strong crosswind or by the wind from an 18-wheeler.
Reversing
No one really likes this part, especially if there is a crowd. Most people know that shorter trailers are much harder to back up than longer trailers, but if you go slow, thinking about your actions and taking your time will make it easier to handle. If you are new to maneuvering a trailer, things can get confusing and sideways very quickly. Try this: when you are ready to reverse your trailer, grip one hand at the bottom of your steering wheel and use this for your reference point. If you want your trailer to turn left or to the drivers side, twist the steering wheel up and to the left, or clockwise. If you want the trailer to go to the right, move your hand to the right. This might seem confusing, but try it out, it could work for you.
It's also a good idea to jump out of your vehicle and do a walk around of the area where you will be parking your trailer. Pay close attention to low overhangs that you could hit with the top of the trailer, or sloped grades which could cause the rig to slip or sink. Visualizing the final parking spot is helpful, as well as ensuring the trailer length will fit properly and the view out the front door is appropriate. It's always great have a spotter behind the trailer with a walkie talkie or a loud voice to guide things.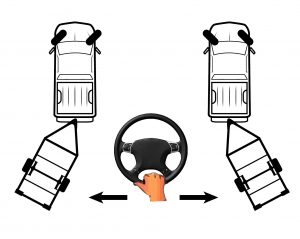 Quick Maintenance Inspections
Check the frame for excessive rust and cracks. Check the tongue for cracks.
If the trailer has an electronic braking system, check the backup battery to ensure it has juice. When the trailer is disconnected from the tow vehicle, this system locks the trailer brakes on to stop it from rolling away.
Check the tire pressures on all the tires and ensure they are properly inflated. Underinflated tires will cause poor handling and excessive heat in the wheels. This could lead to a damaged tire or even a wheel bearing failure.
Put a light layer of grease on the front of the receiver ball and the inside of the coupler. This will help reduce some wear and prevent rusting on both components.
Check the tires for cracks. If cracks are found, they should be replaced immediately.
Inspect the wiring and make the connection. In order to test the lighting without making more than one trip, flick on the tow rig's lights and hazards. This will run all of the lights on the trailer at once.
If equipped, check that the equalizer bars are the proper fit for the trailer. There are different types for different trailer weights.
Check axle bearings by jacking up the side of the trailer and spinning the wheels. If they feel like they are gritty, don't rotate smoothly or "growl", it's time to replace them. At the very least, pop off the axle caps and see if there is grease packed in there.
Now that you're trailer is ready to go, check out this great Camping Checklist: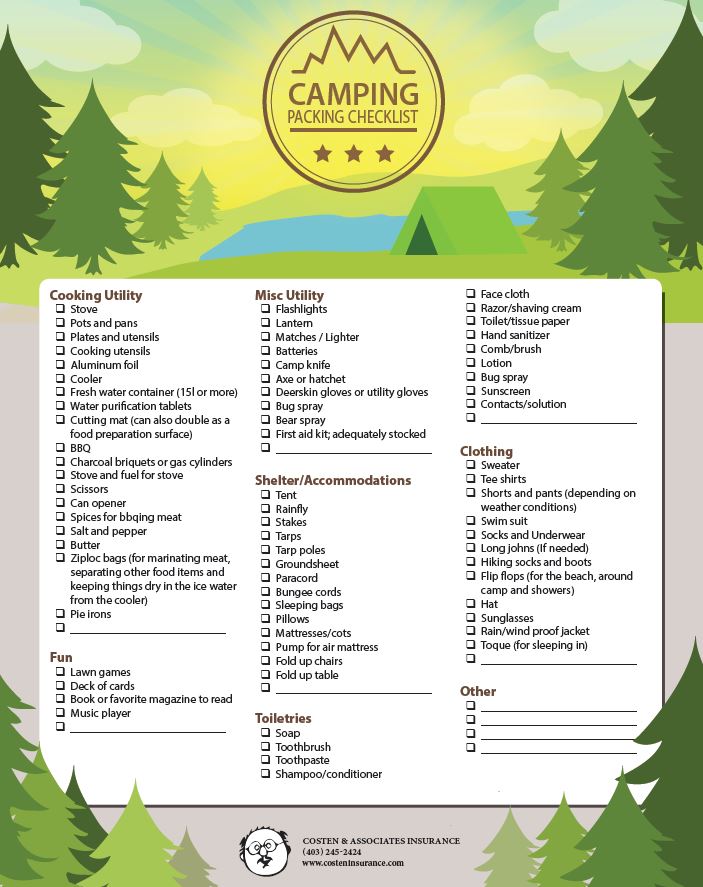 And who could forget these great camping recipes?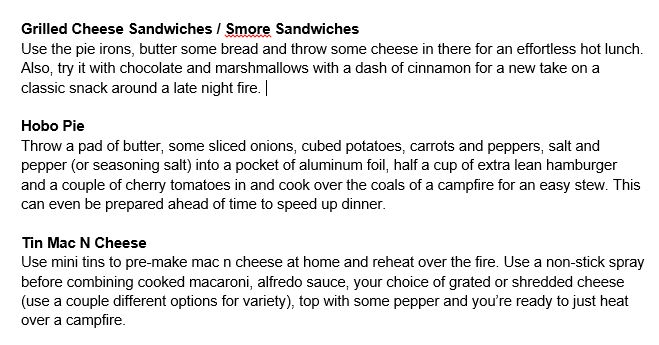 We hope you have found this post helpful and we wish you a great camping season!  As a friendly reminder, we are able to assist you with all of your recreational insurance needs.  If you are interested in a quote or in need of some advice on coverage, please do not hesitate to give us a call.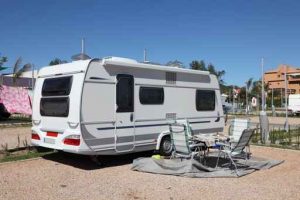 We would also like to give a shout out to all of the Father's out there, as Father's Day is coming up on Sunday, June 18th.  Perhaps a Father's Day camping trip is in store?
Thank you,
The Costen Insurance Team
*Thank you to our valued client and camping enthusiast, Dan Penton, for providing the content for this post.