We would like to wish you and your loved ones a very happy Valentine's Day!  This year, Valentine's Day and Family Day fall on the same weekend.  So while you are enjoying your chocolate treats and spending time with loved ones, please remember to drive safe on those roads!
With the love-filled holiday coming up this Sunday, we thought we would take this opportunity to share some Valentine's history and facts with you:
History
– Valentine's Day is also known as Saint Valentine's Day.
– Some believe the holiday began as a celebration of the Christian Saint Valentinus.
– Another popular belief is that the holiday stems from Saint Valentine of Rome. He was imprisoned for performing weddings for soldiers who were forbidden to marry. According to the legend, he healed and fell in love with the daughter of his jailor and before his execution wrote her a letter signed "Your Valentine".
– The day was first associated with romantic love in the High Middle Ages.
– In 1537, King Henry VII declared February 14th as Saint Valentine's Day.
– In the Middle Ages, young men and women would draw names to see who their Valentine would be and wore the name on their sleeve for one week. This is where the phrase "wearing your heart on your sleeve" came from.
– In 18th Century England, Valentine's Day evolved into an occasion in which lovers expressed their love for each other with flowers, chocolates and exchanging valentines.
– In the 19th Century, handwritten valentines gave way to mass produced greeting cards (which is why many people dub Valentine's Day as a "Hallmark Holiday").
Facts
– More than 36 million heart shaped boxes of chocolate are sold each Valentine's Day.
– Over 50 million roses are sold worldwide.
– 15% of women in the U.S. send themselves flowers on Valentine's Day.
– 73% of the people buying flowers are men.
– Red roses are considered the flower of love.
– 3% of pet owners give their pets a valentine gift.
– There are over 222,000 wedding proposals each year on Valentine's Day.
– The Italian city of Verona, where Shakespeare's Romeo and Juliet lived, receives over 1,000 letters addressed to Juliet each Valentine's Day.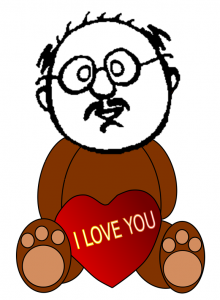 Jokes
– Q: What do Squirrels give for Valentine's Day?
– A: Forget-me-nuts!
– Q: What did the boy octopus say to the girl octopus?
– A: Can I hold your hand hand hand hand hand hand hand hand?
We hope you enjoyed our Valentine's Day post and once again we wish you and your loved ones a wonderful holiday. And as a reminder, if you happen to be the recipient of a Valentine's gift in the form of jewellery, please contact our Office to discuss the limitations on your policy and how you can ensure that your beautiful new gift is protected!

Thank you,
The Costen & Associates Team