As we head into 2017, Costen Insurance is excited to celebrate its 30th year in business!

Costen Insurance, formerly known as Costen & Associates Insurance and Financial Planning Ltd., was founded by Larry Costen.  Larry started his insurance career in the early 80's, working for Imperial Life selling life insurance and other financial products.  After being asked by many of his clients if he could provide them with insurance for their home and auto, Larry decided to venture into the world of general insurance.  He started Costen & Associates and incorporated the company in 1987.
Throughout the years, we have had many wonderful people join the Costen Team.  Today, we have a solid Team of knowledgeable and friendly Brokers who have helped us grow and succeed into the wonderful family-run business we are today.  We would like to thank our amazing Costen Family, many of who are celebrating milestone anniversaries this year, for all of their hard work and dedication to their career, our clients, and our business.
We would also like to thank all of  YOU, our valued clients, for your past patronage.  Some of you have been with us since the very beginning and are celebrating 30 years along with us!  We would also like to thank you all for supporting our Customer Referral Program, which we began in January 2003 as a way to say Thank You to our clients, friends and associates, and to support the many charities and organizations that do so much good for our communities.  As we enter 2017, we will be starting our 15th year of our Customer Referral Program!  We look forward to announcing our 2017 Charity of the Year in the weeks to come.  For a list of all of the past charities we have supported, please click here.
We have many exciting changes coming in 2017, including an updated website launching the first week of January.  We also have some great new Producers who will be joining the Costen Family in early 2017 and we look forward to introducing them to you.
As a way to celebrate our 30th year in business, we will also be launching our "30 Weeks of Giveaways" on Facebook!  We will be giving away weekly prizes for answering Costen Insurance related trivia questions.  If you haven't already liked our Facebook page, click here now!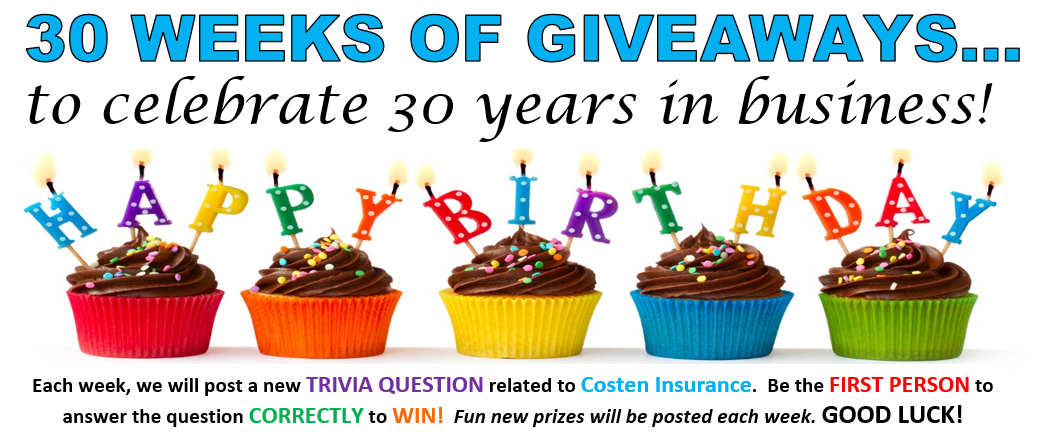 Thank you again for trusting Costen Insurance with your insurance needs as we head into our 30th year in business.  We are honored to be your Broker of Choice and we look forward to working with you in 2017!
The Costen Insurance Team