Costen & Associates would like wish our Financial Advisor, Lloyd Keating, a Happy 3rd Anniversary with our Brokerage! 

Lloyd has been a close friend of the Costen & Associates Team and part of the Costen & Associates family for many years.  Working in the industry since the mid 80's, Lloyd ran his own Financial Services Brokerage, Keating Financial, and shared office space with our Company for several years.  In 2007, his oldest son Shawn married Crista Costen, making Lloyd a permanent member of the family!  In March 2010, Lloyd joined Costen & Associates as a Financial Advisor, bringing with him over 25 years of experience and knowledge.
Lloyd focuses mainly on Life, Disability, Critical Illness, Long Term Care, and Health & Dental Insurance, as well as Investments. In his spare time, he enjoys spending time with his large family, camping, fishing and golfing.  Lloyd is one of five siblings, has four children (including fraternal twin boys), and three grandsons (also including fraternal twin boys)!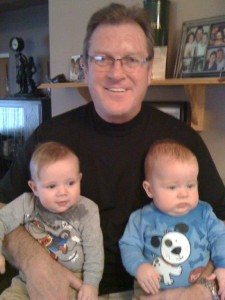 Lloyd and Costen & Associates are honored to provide you with a wide range of superior insurance and financial products, focusing on the three important areas of Risk Management, Business Management, and Financial Planning. In addition to those already mentioned, here is a list of the financial services that we offer:

Mortgage Life Insurance

Permanent Life Insurance

Health & Dental Plans

Critical Illness / Long-Term Care Plans

Disability Plans

Educational Savings Plans

Term Deposits / GICs

Segregated Funds / Annuities / RRSPs / RRIFs

Employee Benefit Plans

Cost Plus Health Plans

Group RRSPs

Profit Sharing & Pension Plans

Partnership Insurance

Please join us in wishing Lloyd a wonderful 3rd Anniversary!  If you would like more information on the financial products and services that we offer, please do not hesitate to contact our Office at 403-245-2424, or contact Lloyd directly at 403-383-9080, or lloyd@costeninsurance.com.

Thank you,

The Costen & Associates Team!