This week, we wanted to highlight one of our valued clients: Dan Penton, Graphic Designer.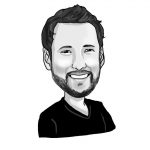 Dan Penton is a Calgary-based graphic designer and self-declared creative genius. He has been serving the Calgary area for more than eleven years providing his creative services to all sorts of businesses. He currently works from his home (or a coffee shop!) and specializes in print design and photography, but also minors in web design and illustration. When he is not working for his stellar clients, he is busy outdoors enjoying long rides on his motorcycle, fishing and camping as well as cooking for friends.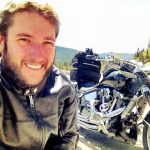 So what does a graphic designer do?
Designers handle a lot of different things. Logos, printed brochures, business cards and websites are all the normal things people associate with the works of a graphic designer. But there are others too, like the vehicle wraps you see advertising a business, images in books and magazines, packaging for your cereal box, and even the recyclable sleeve on your coffee cup was put together by a designer. Virtually everything which requires an aesthetic touch and some technical know how to output it is managed by a designer in some way.
Many of the projects are short with tight turnarounds which translates to a lot of variety in the day to day. One day Dan could be working on a set of business cards for a new start up company and the next he could have a 200 page catalogue on his plate for a much larger firm, or possibly creating a vehicle wrap for a trucking company or on site handling a photoshoot for a new product or portrait session.
Although his service offering is vast, Dan enjoys the print aspect the most. "When you finish a set of materials for a company or event and you have something wonderful and tangible in your hands, this is what I love." Dan says. "Also, the relationship building is fascinating as well. You meet so many different types of people and businesses with different needs. It's never really a dull day in the life of a graphics guy. Plus, I tell people I draw dinosaurs all day, which makes everyone laugh."
Proud Moments
Working with a close friend, the small team tackled the 2008 Viewbook for the University of Calgary as well as all of the supporting materials for their campaign for the season. This was a large six-figure project which had many moving parts and final output pieces. These pieces included all of the 75,000 finished handbooks, but also calendars, many other small brochures, custom photography from a few different shoots, an online campaign and many banners and displays.
Dan has been published internationally with some of his photography. A few of his photos ended up in a German teen magazine back in 2006 and he was a finalist for the Metro Photo Challenge in 2008. He has taken pictures of lots of products, weddings, infants and families, but prefers large, colorful landscape vistas at sunset or sunrise.
If you wish to contact Dan regarding a consultation for his services, please visit his website at www.dpcreative.ca.
Thank you,
The Costen Insurance Team
Note: if you would like to have your business featured in one of our posts, please contact Crista directly.  Thank you!