We just past the 1/2 way point of 2017 (wow!) and we want to provide an update on our 2017 Charity of the Year, The Max Robinson Children's Foundation!
Here's a little reminder on who they are:
The Max Robinson Children's Foundation was established in the memory of an amazing little boy who touched the lives of all those that were privileged to know him, as well as countless others who have been touched by his story since. Through fundraising efforts, their hope is to continue to touch the lives of children and teens in our community through educational and health-related support. The foundation has pledged, over the next four years, to raise and donate $125,000 to the Alberta Children's Hospital through fundraisers and the generous support of Max's community. Additionally, the foundation has supported an Advanced Placement Scholarship at Max's school and sponsored a Beaver to participate in Max's much-loved scouting program in Okotoks.
Through our Customer Referral Program, we have raised over $800 to-date for The Max Robinson Children's Foundation.  Thank you to everyone who has referred their friends, family and associates to us.  We sincerely appreciate the support of our Brokerage and of our Charity of the Year!  As a reminder, for each referral that results in new business, we will donate $5.00 to this great charity, so please keep those referrals coning!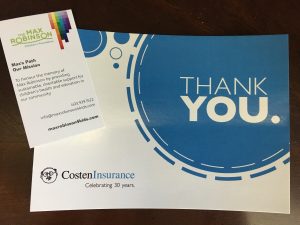 We also had the honor of attending the Second Annual Max Robinson Children's Foundation Memorial Golf Tournament, which was held on Sunday, June 11th at the Crystal Ridge golf course in Okotoks.  We had three Costen Insurance Teams who took part in the 9 holes of golf (on an absolutely beautiful day!) and the delicious brunch.  There was also a mini-golf tournament, a silent auction, a live auction, 50/50 draws, and bouncy castles and face painting for the kids. The day ended with a beautiful balloon release in memory of Max.  Between the golfing, auctions and draws, the Foundation raised over $34,000 from this event!
Here are some pictures from the days events:
For more information on our Charity of the Year, or to find out how you can help, please visit them here.
Thank you and we look forward to continuing our support of this great charity for the remainder of 2017!
The Costen Insurance Team