This past Tuesday a couple members of our management Team had the pleasure of spending the morning volunteering with our 2016 Charity of the Year, Brown Bagging for Calgary's Kids (BB4CK).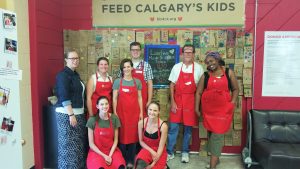 The morning started early at 8:00AM, making 870 sandwiches of various varieties.  We hit our goal of completing the sandwich making by 9:00AM, and then organized them into bins with snacks and ice packs to be sent out to Calgary's schools.  The remainder of the morning consisted of a well deserved coffee/water break complete with a delicious freezy (it was 30+ degrees outside and felt twice as hot inside the kitchen!).  After our short break and getting to know the BB4CK Team and fellow volunteers better, we had the pleasure of bagging what seemed like 1,000,000 baby carrots in order to prep snacks for the following day.  We wrapped up our volunteer shift around 12:00PM after tidying up the kitchen.
It was a great experience for us to see how BB4CK operates and how amazingly organized they have to be in order to ensure everything runs smoothly and that the right lunches get out to the right schools at the right time!  The BB4CK Team is full of wonderful, friendly and selfless people who are impacting local kids' lives every day.  If you are looking for a great charity to support, we highly recommend checking these guys out!
For those of you who are not familiar with Brown Bagging for Calgary's Kids, or who missed our original post earlier this year, here is a little information on how they got started and what they do:
Established in 1990 by Calgarians Christy Switzer and Kimberly Setrakov, the charity's original mandate was to provide healthy lunches to Calgary's homeless kids.  In 2002, the organization became a registered charity and in 2005 turned it's focus to helping all of Calgary's hungry kids.  The current director, Tanya Koshowski, joined the organization in 2012 and she and her Team are making a big impact in our local community.
Their mission is to work with Calgary schools to identify kids who are hungry and find ways to feed them.  They have one goal: no hungry kids in Calgary. They strive toward this goal each day by providing healthy lunches directly to kids, and by empowering communities to create lasting social change.
With its small and dedicated staff and hundred's of volunteers, Brown Bagging for Calgary's Kids is able to provide lunches for approximately 2,900 kids per day.  Contributions made go directly to the kids, and with the partnership and donations from some of Calgary's fabulous businesses, every $1 = a healthy lunch for a child.

The Brown Bagging for Calgary's Kids Team works closely with the local school staff members to identify kids in need.  Meals are prepped in the organization's main kitchen as well as prepared by other community groups (such as parent groups, retirees, and businesses) and are delivered to the schools.
To date, our Customer Referral Program has raised $610.00 for this great Charity, with additional proceeds from our donation bin and Office snack box.
For more information on this great charity, or to donate, please visit their website.
Thank you,
The Costen & Associates Team