Many people are unsure of what to do in the event of an automobile accident. We have put together some easy to follow steps that you may find helpful in the event of a claim.

Step 1 – Be Prepared

It is a requirement by law that you carry up-to-date proof of insurance (also known as a "pink card") and vehicle registration. Before you head out on the road, ensure that you have these documents with you in your vehicle. We also recommend carrying with you an Accident Booklet, as seen below. If any of our awesome Costen & Associates clients do not have one of these, please give us a call and we will mail one out to you! If you are not already a Costen & Associates client, this is another fabulous reason to join our Family! It is also a great idea to carry paper and a pen, as well as a disposable camera (for those without smart phones).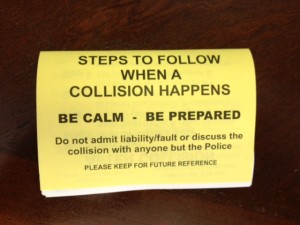 Step 2 – STOP

If you are involved in an automobile accident and do not stop, you may be subject to criminal prosecution. If you are not involved in an accident, but are witness to one, we recommend stopping and providing your name, address and phone number to both parties. Often times, the statement from an independent witness will allow the Police and Adjusters to better determine what happened in the accident.

Step 3 – Stay Calm

Shut off your vehicle and move away from traffic and any dangers before making any phone calls or obtaining any information from the other party(ies).

Step 4 – Call for Help

If there are any injured parties, or if there is a significant amount of damage to any of the vehicles involved, contact the Police and Emergency Assistance. Provide first aid to any injured parties, as necessary, but remember not to move them.

Step 5 – Take Pictures

If possible, it is a good idea to take pictures of the accident scene, the damage to all vehicles involved, as well as the road conditions and intersection/location of the accident.

Step 6 – Move your Vehicle

If it is safe to do so and the vehicles are drivable, move them off to the side of the road out of traffic. If any of the vehicles are not drivable, turn on your hazard lights to alert other drivers.

Step 7 – Take Information

This is where that little Accident Booklet comes in handy! Write down the details for the other party(ies) involved, including the driver's name, address, phone number, drivers licence number, and vehicle licence plate number. Also get the name and address of the registered owner, as well as the name of their Insurance Company and policy number.

Step 8 – Witnesses

If there any independent witnesses, it is important to obtain their name, address and phone number for the reasons described above.

Step 9 – Additional Information

It is a good idea to jot down any other relevant information, such as the name and badge number of the Officer(s) attending the scene of the accident; the date, time and location of the accident; the weather conditions; the location and extent of damage on all vehicles; information on any injured parties; and a diagram of the scene. Again, this is where that little Accident booklet is awfully handy to have!

Step 10 – Contact your Broker

Contact us to report your claim as soon as possible. Our Team will take down the primary information and will submit the claim to the Insurance Company on your behalf. A certified Adjuster will be assigned to handle your claim and will contact you directly to confirm the information and take your statement.

Claims can be reported to our Office via phone (403-245-2424) during regular Office Hours, or via email at admin@costeninsurance.com. If you have our Mobile App on your smart phone, you can also submit your detailed claim information directly from your phone.

After hours, emergency claims can be reported directly to your Insurance Company via the numbers provided on our website.


We hope that you have found this information helpful. Please do not hesitate to contact our Office if you have any questions regarding the above information. Safe Driving!

The Costen & Associates Team