The Costen & Associates Team celebrated a fun night out early this month at the Calgary Archery Centre.

Each year, we create a new set of fun and rewarding challenges for the Team. One of our challenges in 2013 was to write a specific volume of Travel Insurance, which was met and surpassed by our fabulous Team! As a reward for exceeding our Travel Insurance target, we thought it would be neat to try something different.

I would just like to say that the Calgary Archery Centre is a fantastic place, and I for one will definitely be going back soon. Located in the Foothills Industrial Park area of Calgary (at 4855 47th Street SE), they are open 7 days a week with flexible hours, making it easy to swing by after a hard day at the Office and "shoot" off some steam!

They are open to the public and offer a wide range of services, including private and group lessons, equipment rentals, shoot passes, traditional nights, and 3D and target leagues. They also sell hunting and fishing licences as well as a variety of bows and crossbows, sights, releases, qiuvers, broadheads, arrows, and targets.

We had pre-arranged a group booking for the Team, and had the pleasure of using the upstairs target range. The space was reserved for our group and we had a wonderful instructor (hi Bill) who showed us the do's and dont's of archery and kept us all safe.  In addition, the rates for a group booking and instructor are incredibly reasonable.

And now…. some pictures of our awesome fun night out: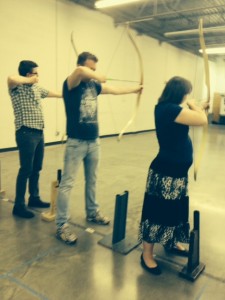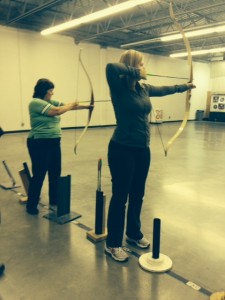 If you are like some of us and have yet to try archery, or if you've always dreamed of being like Robin Hood and shooting a bow and arrow wearing tights, we highly recommend checking out the
Calgary Archery Centre
… you will NOT be disappointed.
Thank you,
The Costen & Associates Team